Home

/

Medical / DR Systems
DR Systems

With a range of DR Flat Panel Detectors, we have aimed for best in class performance, image quality, robustness and ease of use. Whether in use on the tray table, in the emergency department or as part of a tabletop or cross-table exam, mobile x-ray and theatre environment, equipping you with more visual information to make faster, better patient decisions.
We also have a range of panel protection products and positioning products to help protection your investment and provide optimal positioning of patients for x-rays.
Konica Minolta
The Konica Minolta AeroDR Flat Panel Detector family provides extremely high-definition radiographic imaging with, housed in a lightweight, durable and highly water-resistant enclosure.
The Konica Minolta AeroDR family is equally suitable for use on the tray table, in the emergency department or as part of a tabletop or cross-table exam, mobile x-ray and theatre environment, equipping you with more visual information to make faster, better patient decisions.
They can be tethered for both charging and image transfer on the one combined cable. With fast charging, less than 30 minutes to full charge or 10 x-rays from 3 minutes on the charging dock, you will never be left waiting.
The Lithium Ion Power Cell is good for the life of the panel, negating the need to have to swap out batteries and avoid the cost and the problem of failed Litium Ion batteries.
Konica Monital AeroDR 3 Premium HD Flat Panel Detectors
AeroDR 3 supports the high resolution 100µm pixel size for excellent image quality. It is the third-generation flagship model of the cassette DR with advanced durability. There is a lineup of three sizes: 17x17", 14x17" and 10x12".
100 µm pixel size, High DQE
Light weight
New imaging processing technology "REALISM"
AeroSync (AED function) (AED: Automatic Exposure Detection)
Lightweight and robust structure
Water resistance IPX6
Powered by a lithium ion capacitor
Internal access point & Internal storage
100 µm pixel size, High DQE
AeroDR3 offers a 100 µm pixel size, the world's smallest, and can use either 100 µm or 200 µm depending on the imaged body part. It also realizes high DQE while providing high resolution, and achieves DQE 56 % (1 mR, 1 cycle / mm), higher than our conventional model. As the flagship model, this device provides the high level of image quality with the lowest dose to the patient.
New image processing engine "REALISM"
In order to maximize the image quality of the AeroDR3, the CS-7 console is powered by the newly developed image-processing engine "REALISM". With improved frequency emphasis and optimized 100 µm imaging, its image processing technology allows printing the entire image while maintaining contrast, and produces clear stereoscopic images.
Lightweight and robust structure
The body uses a highly robust super monocoque structure, which meets the Military Standard of the U.S. Department of Defense (MIL- STD- 810G). Also, the water-resistance rating is IPX6. The load tolerance allows a surface load of 400 kg, point load of 180 kg, and two side support loads of 130 kg. These features make the product safe to use in a wide variety of settings.
Intelligent Grid
The advanced Realism DR software with "Intelligent Grid" image processing reduces the need for the use of a grid, further improving your patient care.
Power Cell
In place of a traditional battery, the AeroDR system uses an integrated lithium ion capacitor, achieving a full charge in 30 minuets, which provides about 300 images in a normal workflow.
In the event of a complete discharge, a rapid charge of only a few minutes will provide enough capacity to complete the current procedure.

LG Flat Panel X-Ray Detectors
Ensure Diagnostic Accuracy with Superior Image Quality
High-quality Digital X-ray Detectors (DXD) from a global technology leader. LG DXDs bring the same quality and workmanship you've come to expect from LG Electronics. LG DXDs guarantee high-resolution and clear image quality, without image distortion, using 16-bit image processing and a pixel pitch of 140μm for high-resolution, diagnostic-quality images. LG systems are cost-effective solutions suitable for any clinical or portable environment.
LG Flat Panel X-Ray Detectors assure Outstanding Image Quality at a low radiation dose. The GoDR Acquisition software provides unparalleled image processing with feature rich user interface. The LG Flat Panel IP53 resistance rating ensures that LG DXD will be protected against objects drops, dust, and dripping liquids such as blood and bodily fluids.
The LG Flat Panel X-ray Detector has a super strong body that combines carbon-fiber with magnesium, LG DXD is not only lightweight, but also exceptionally strong and durable.
Available in wired and wireless versions, LG DR systems are cost-effective, FDA-approved imaging solutions perfect for any clinical environment.
​LG offers three models to suit your needs, 14x17" and 17x17" wireless and 17x17" wired models.
You can also connect two detectors to one system if you're a busy practice needing a wireless for your table and a wired panel in the wall-stand.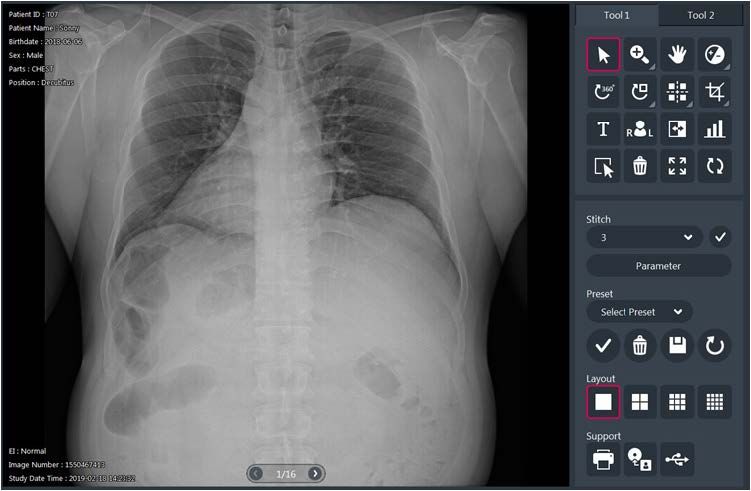 DR Panel Protection
RC Imaging make one of the best DR panel protection devices in the world and they are also compatible with their Complete View 2 Step Platform. Avilable with or without a grid fitted to the DR Panel Protector.
Using an expensive DR Panel in a portable/mobile environment can be extremely risky. You can easily reduce the burden by protecting your investment with their NEW innovative Lock-N- Secure® II DR Panel Protectors containing multiple layers to absorb impact and increase weight capacity. Designed for all wireless, cassette sized panels, Lock-N- Secure® II has the same unparalleled quality features as our original Lock-N- Secure® with a smaller, slim, universal fit profile.
All of RC Imaging's panel protection products have been tested for strength and durability by an accredited independent laboratory.
Custom utility ports
Patented positive lock to prevent panel pop outs
Easy one hand operation
Available with a grid or carbon fiber panel for weight distribution
Multiple handle orientations- Long, Short, and Dual
Various sizes availableThree layers of impact protection
Patient friendly rounded edges
For cassette-sized wireless or tethered panels
NEW rotating Bucky solution
NEW wall stand solution