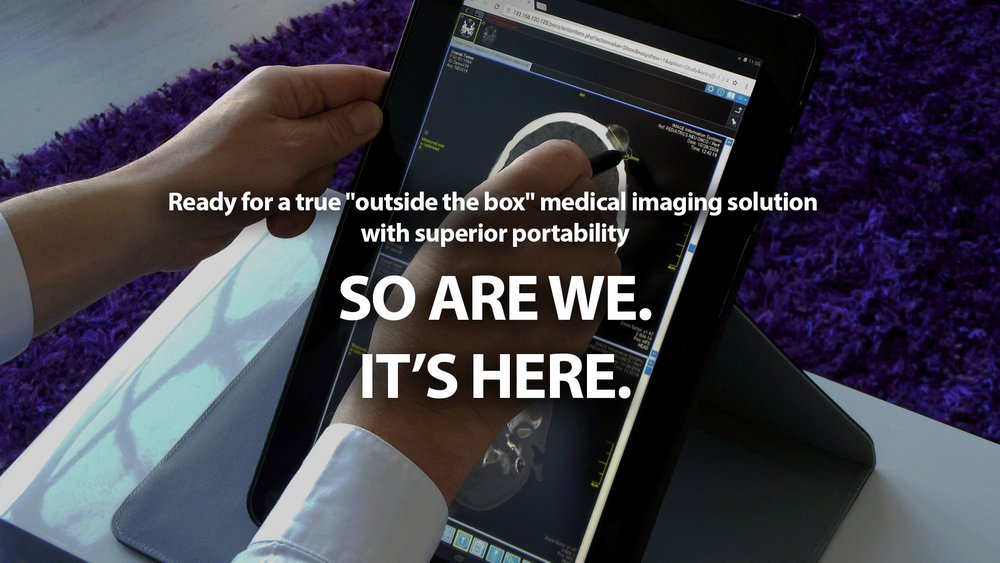 MED-TAB

The world's first and only DICOM-calibrated portable workstation.
Your only superior, portable medical image solution.
Created by a radiologist for imaging specialists.
Winner of the prestigious international iF Design Award.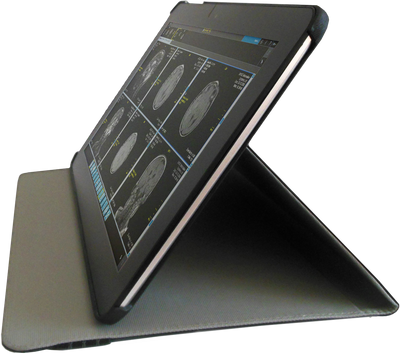 Image Analysis Anywhere and Everywhere
The world's first portable DICOM calibrated medical image display – MED-TAB.
View, analyze, send images anytime, anywhere. Medical imaging professionals are now free to work beyond the confines of a darkened room, confident in the knowledge of standards-compliant quality and taking no risks with viewing conditions. In MED-TAB, PLUM Medical Solutions, a new company dedicated exclusively to innovation in medical imaging, has created a unique and patented product for today's changing world.
– consistent high-quality
– unprecedented portability and access
– safe and precise image analysis anywhere
A game-changer in teleradiology and portable imaging.
Hospitals can use MED-TAB for bedside diagnostic image viewing in emergency room and in intensive medical care units.
Imaging departments can use MED-TAB for remote analysis, distributed radiology demonstrations, and for peer-to-peer review.
MED-TAB can be accessed via a diagnostic app called PORT-RAY, via cloud or web portals. On-call physicians can rely on MED-TAB™ for quick access to images from anywhere on-demand.
MED-TAB includes:
MED-TAB offers the only patented 11 bit portable GSDF compliant DICOM grayscale calibration

Special pen for measurement: Up to 10x more accurate and three times faster than using fingers on the touchscreen

The unique USB grayscale adjustment tool provides optimum image visibility

Improve image analysis with the anti-glare screen

Eliminate guesswork with ambient light sensor Indicates whether or not the surrounding light is suitable for image analysis

Enjoy a screen that is more than 65% larger* than the iPad Air 2 and the Galaxy Tab 4
*According to area and not diagonal distance
Get Used to Amazing Efficiency with MED-TAB
Functions on the Android 6.0 operating system
Is available with the zero-footprint HTML5 DICOM viewer iQ-4VIEW or the Android App PORT-RAY (sold separately).
MED-TAB supports most major PACS vendors
using HTML5 zero footprint technology.
Nearly all PACS functions, like zoom/pan, comparisons, measurements, 3D reconstruction, etc., are possible – from anywhere – with this DICOM-enabled pad.
HDMI port connects the device to a larger display / data projector for peer sharing. (Device supports full HDMI only.)
Easy to use & Intuitive
Use your fingers, a mouse, a keyboard, or a philips SPEECHMIKE to navigate the touch screen of the portable 13.3" reading station.
After logging into a PACS via wireless LAN, simply tap images to analyze
Perform repoting tasks via voice recognition or the digital dictation tool included in the software
MED-TAB – not just another tablet
It's the first portable medical imaging workstation, designed for DICOM compliance and built with essential medical features, including:
patented GSDF grayscale calibration
anti-glare screen
ambient light measurement and monitoring
a custom-designed measuring pen
DICOM Part 14 compatibility
standards-compliant brightness & resolution
MDD Medical Device Class I
MED-TAB – for freedom, convenience and increased productivity in radiology